Landbased vs Online Casinos in the COVID Era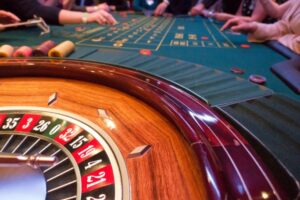 The gambling landscape has changed forever with social distancing becoming the norm. Land casinos across the world have implemented new regulations to limit the spread of the virus. Many states in the USA have already allowed land casinos to reopen under strict rules and other countries are likely to follow suit. On the other hand, a 20% surge in demand for online casinos was reported during the lockdown. Sports betting sites and online bookmakers diversified their betting products to include eSports, virtual sports betting and online casino games. Sports leagues have started to recommence the season. The German Bundesliga has already kicked off, and other European leagues are about to restart, albeit with empty stadiums until social distancing rules are relaxed. Nevertheless, once stadiums reopen, capacity is likely to be reduced. Post-COVID, demand for online casinos is set to remain buoyant. New customers gained during the pandemic will likely remain loyal, and at the very least, land casino converts will retain the online version as a back-up.
Caesars Implements Post-COVID Plans
Land casinos will need to adapt and change practices, and are already implementing drastic regulations that will change the previous norm. American brands like Caesars Entertainment Corp. recently revealed reopening plans for its 36 casinos and resorts operated across the USA. Other brands have implemented similar policies. The company is opening its multiple properties in phases in line with initial demand and capacity limitations. Caesars already announced it had drafted a comprehensive health and safety strategy to be implemented across all properties. That ensures the health and well-being of staff and team members, guests, and visitors. The health and safety program focuses on enhancing cleaning and sanitation practices in all public areas, guest rooms and gaming areas to help limit the spread of the pandemic. Employees will be obligated to wear a face mask and gloves. Customers will be encouraged to wear face masks, but not obliged. Moreover, Caesars will facilitate and promote social distancing practices across all its casinos by limiting seating at gaming tables and slot machines on casino floors.
Post-COVID Surge in Demand for Casinos
Land casinos have been closed for months with gambling centres like Las Vegas rendered ghost towns. Land casinos all over the world are focussing on implementing social distancing practices recommended by local state and health officials. Casino resorts in Las Vegas are offering substantially reduced room rates to encourage patrons back to Southern Nevada, while some are offering to pay for visitors' air tickets. The Bellagio and New York-New York, both operated by MGM Resorts along with Caesars Palace, The Flamingo, and Harrah's, operated by Caesars Entertainment have started accepting visitors. The Las Vegas Sands, The Venetian, Palazzo, Wynn and Encore also opened their doors to guests. Up and running Vegas casinos include Treasure Island, The Sahara and The Cosmopolitan.
Demand Picks Up
Despite reduced visitor volumes, land casinos are starting to reopen and already reporting better than expected bookings. Initial demand to visit the Las Vegas Strip has proven substantially stronger than initially anticipated. In Europe, betting shops and land casinos have started the arduous trek back to a semblance of normality, operations and financial viability. Some casinos began accepting guests in May while others won't be accepting patrons until July. Enthusiasm in the casino industry as a whole has remained surprisingly robust. CEO of Eldorado injected optimism regarding a planned merger with Caesars Entertainment Corp despite the pandemic induced slump. The CEO of casino operator Eldorado's, Tom Reeg still insists his company will close a $17.3 billion merger with Caesars Entertainment Corp. by the summer, as initially anticipated. Land casinos are gradually easing restrictions many businesses, including casinos, set to reopen—optimism in US states such as Nevada mirror the rest of the world.
The New Casino Normal
While online casinos have not been forced to modify their business models, nevertheless, competition is fierce. The pandemic has led to an expected increase in demand for online business, including online casinos. There are no social distancing rules for online casinos; however, competition has become even more fierce. The first and second-quarter earnings for the year have attracted even more competition. Online casinos need to improve their products to compete. Once the stringent coronavirus restrictions ultimately wind down, the global economy will pick up, and all types of gambling will thrive.
The Future to Come
The pandemic crisis has decimated economic growth and effected the jobs market and spending power. Online and land casinos are looking at a windfall and release of pent-up demand caused by lock-down restrictions. Social distancing protocols enforced in small crowds and the requirement of using face masks in public will likely remain in effect long after the pandemic. Land casinos, along with big and small businesses around the world, are actively implementing the post-lockdown as a new normal.
Conclusion
Online casinos and land-based operators are being forced to navigate in the near-term. Citizens are desperate to resume public life; however, without a vaccine on the immediate horizon, uncertainty in the industry will persist, albeit at a lesser extent. Cashless transactions, smaller office space, fewer on-site employees, cleaner hotels and less crowded casinos without buffets are post-lockdown realities. Changes to public life will be subtle, yet dramatic. There will be structural changes in the gambling industry and the economy. The pandemic has opened up new opportunities. The gambling industry as a whole has suffered less than other businesses. Bookmakers have survived the postponement of sports events, and land-based casinos and bookies rode out the storm. Economists are predicting that it will take up to two years to recoup lost growth in the first two quarters of the year. Hotels and land casinos have been haemorrhaging money and are desperate to return to normal. Whether patrons feel safe enough to return to public life in their droves is still an open question. The gambling industry is in the process of imagining a casino experience with social distancing. By and large, casino floors are vast and can accommodate many patrons nevertheless. Casinos will have to spread out slot machines, games and equipment. There will be more equipment and processes to sanitise and enforce social distancing regulations. Elegant open-air buffet dining and packed casino floors will be a thing of the past. With fewer games on casino floors to provide the spacing requirements, casinos are coming back with much more infrequency.
Comments are closed.